A new product needs to deliver on every level.
Successful product design and development means finding a solution that's functional, operational and financially viable. With the added considerations of styling, ergonomics and human factors requirements, things can become challenging at best, and overwhelming at worst.
Our team of product design consultants have the depth of experience to guide and support you through this early phase to:
Define the brief
Ensure your concept is viable and evaluate if a market exists
Assess your competitive edge and provide weight to the business case
Mitigate risks and challenges
Guide on resource levels, budgets, timelines and milestones
Set out a clear programme management structure providing clarity and visibility to all stakeholders
Requirements Capture
A product can have hundreds of individual requirements. Discussing, defining and capturing these is critical before starting any product development.
Our processes and experience enables us to work closely with you to draw out those requirements and collate them into a Requirement Document that defines the project brief, focuses the design activities and drives the downstream product development.
Referring back to this document during the project will minimise creep, ensure it delivers on the needs of your business and aspirations of your customers, and maximises the potential success of your product.
Concept Development
Using the Design Brief, our team of product design consultants will develop top-level concept sketches that aim to satisfy that brief 'in principle'. The fluid nature of the sketches enables design options to be explored, technical hurdles to be resolved and changes to be made quickly and efficiently as the product evolves.
Although typically lighter on detail, the sketches contain a level of technical detail and engineering credibility to help you make sound project decisions and give you confidence that your product will satisfy and exceed the brief – before you commit to further investment of time and money.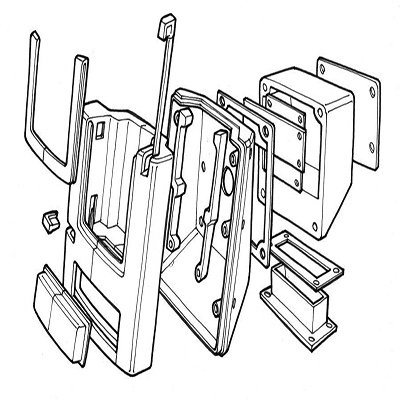 Human Factors and Ergonomics (HF & E)
For a product to be successful and coveted by your customers, it must work well and be easy to use.
Our experience enables us to identify possible conflicts such as vibration, excessive forces, noise and awkward operating positions early in the project. By adopting sound HF & E techniques, we can resolve or minimise the effects that can lead to occupational Health and Safety issues.
Creative HF & E can also shape the design of your product, improving its efficiency, boosting productivity and enhancing the user experience to result in a more intuitive and successful solution.
Concept Visuals
Our industrial designers can produce a range of visual materials, including photo-realistic renderings, animations or traditional print images which can bring the product to life with colour, texture and graphics.
These visuals can be used to validate the decisions made in the Requirements Capture and Design Brief and obtain valuable feedback within your business or from your customers.
This vital step in your product development will give you confidence in the product direction, ahead of further business commitment and investment in the product design engineering phases.